Life coaching or therapy for family issues?
---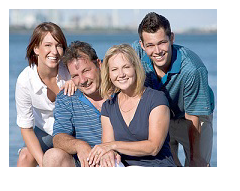 Each family's dynamics are unique. When you consider elements such as personality, family history, communication and attachment styles, etc., attaining healthy relationships may at times seem overwhelming. Let us reassure you that no family is perfect and there is always room for growth…always! Let us also reassure you that your family's geographical location no longer dictates what is or is not available from a high-quality coaching perspective. While it is true that Paradigm's face-to-face life & family coaching services are most available throughout the South Florida region, coaching by phone, video chat, Skype, Face Time, etc. is always available and extremely effective!

QUESTION: What is the difference between family therapy and family coaching?
ANSWER: A therapist operates on an hourly basis with minimal or no contact between sessions. A coach is an accountability partner who can help walk you through the action steps necessary to achieve your goals.
Paradigm Life Coaching Solutions: "Family Coaching with Therapeutic Elements" – essentially merging the two worlds in a manner that strives to offer faster-paced guidance & coaching while integrating individual processes, behaviors, feelings, etc.?
COMMON FAMILY SCENARIOS WE WORK WITH:
Substance abuse, gambling or sexual addiction among a spouse or other family member
Communication deficiencies, lying, manipulating, etc
Combativeness or a general unwillingness to live within the family rules or structure
Trauma and/or grief related issues

Consistent or deliberate poor performance within school, work, home responsibilities, etc
Common teen or adolescent issues
Spousal infidelity and ripple effect upon the family
And more..
For families in and around the Southern Florida region, coaching services & sessions are available in the comfort of their home or other agreed upon locations. Those outside this region or with otherwise complicated schedules, Paradigm's services are made available by phone, Skype, Google Chat or Facetime.

We are here for you 7 days a week at (561) 351-3447 or simply fill out our confidential email form and tell us more about your situation…

.
.

PARADIGM Life Coaching Solutions
EMPOWERING Today ~ ENVISIONING Tomorrow