About Paradigm Life Coaching Solutions
---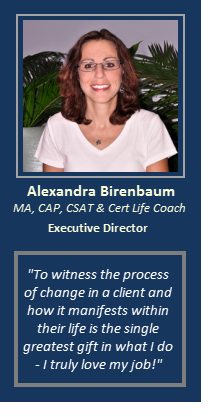 Meet the founder and executive director of Paradigm Life Coaching Solutions, Alexandra Birenbaum, MA, CAP, CSAT & Certified Life Coach.
Having spent much of her adult life working in mental health treatment, most notably within the realms of various addictions, co-occurring disorders and general life guidance, Alex has developed Paradigm from an inherent desire to help others help themselves. She brings over a decade of clinically-based experience stemming from academics, hands-on expertise and a level of depth that effectively sets the stage for customized personal guidance strategies.
As a therapist living in Palm Beach County, Florida, much of her time is spent working with individuals who have struggled in numerous areas often related to substance abuse, alcoholism, sexual addictions, dual-diagnosis issues and more. Her expertise, however, extends far beyond these bounds and is complemented by an innate passion for helping others help themselves through a multitude of avenues.
If you ask Alex what sets her apart from others offering life coaching or recovery coaching services, she'll offer a number of quantifiable differentiators. Ultimately though, she aspires to reach the client on a much deeper level through her vast expertise, a level that is far more prone in affecting deep-seated personal change.
---
Credentials
BA in Psychology – Dickinson College
MA in Sports Management – The Ohio State University
CAP – Certified Addictions Professional
CSAT – Certified Sex Addictions Therapist
Certified Life Coach – Coach Training Alliance
Find Alexandra Birenbaum, MA, CAP, CSAT & Certified Life Coach on Google+
---
Through her numerous professional experiences in Florida and California, Alex has established a strong network of independent professionals who greatly enhance the expansive coaching services here at Paradigm. We invite you to contact us 7 days a week at (561) 351-3447 or by using our confidential online form.

Remember, some of the world's greatest achievers were not great achievers to begin with, but through proper coaching, guidance and commitment, they were able to succeed beyond expectation!
.
.

PARADIGM Life Coaching Solutions
EMPOWERING Today ~ ENVISIONING Tomorrow